10/3 1/8th scale racing at Norcal Hobbies in San Jose, CA.
10/4 1/5th scale racing at Warm Springs Raceway in Fremont, CA.


2015 USA RC Bike Nationals RESULTS:

1/8 UNLIMITED CLASS

1st place: Kevin Hicks (RCMCC club)

2nd place: Ian Francisco (RCMCC club)

3rd place: Matt Sexton (RCMCC club)



1/5 UNLIMITED CLASS

1st Place: Dwayne Lawler (SoCal Riders club)

2nd Place: Ian Francisco (RCMCC club)

3rd Place: Larry Dy (SoCal Riders club)

4th Place: Will Almaguer



1/5 STOCK CLASS

1st Place: Dwayne Lawler

2nd Place: Ian Francisco

3rd Place: Lito Reyes

4th Place: Will Almaguer



Here are my notes on the race.

1) THE TRACK:

It's a brand new 1/5th scale track - what's not to like? 100% World Class. Even has a bathroom and sink. Once the morning dew burnt off the grip was incredible and consistent throughout the day. Kevin was pulling wheelies down the back straight even in Round 5. The back straight was fairly long, you could actually hit full throttle on mod. It ends with a soft right hand bend so lots of bikes were hard braking/sliding into the turn. Double Apex Turn 1 was the trickiest because it went immediately into a chicane so best angle was to sweep wide into it. As a result many of us went either too wide or hit the berms going in (once you commit to a turn on bike, it's very difficult to correct!). As for the infield section, when you graze all of the berms just right you begin to establish a rhythm and it feels so nice, like you are on Cloud 9 and don't want to come back down to earth. People were doing relatively same infield sector times for mod and stock I'm guessing. Going into the main straight was also tricky because not only are there planters along the wall but the trees provide shade and drastic light conditions. I was really hesitant to pull the trigger too early for fear of landing into Spin A Yarn's backyard!



2) THE RACE:

In mod: I was frequently late braking out of the straight due to some insane speed and cold tires. There is definitely an adjustment period when driving mod right after stock. After a few trips early on into the runoff area during the heats with Dwayne (not to mention the fact that he was blazing in the low 21's and me with the high 22's lap times), he easily ran away with the overall title. I got to marshall in the back straight during Larry's winning run. His Dean Tech looked so damn smooth.



In stock: I think Lito had some trouble early on, but by the time he was heating up with the 2011 Jabber, it was too late to catch up. My best race came in the end, I ran a nearly perfect race without bobbling or crashing the bike but still 6-7 seconds behind going into the last minute and I think he made a mistake in the closing laps while I had a clear track ahead.



3) OVERALL:

Never did 5 rounds of racing with two classes before. It was both mentally and physically exhausting. I don't think anyone had a chance to eat lunch, maybe even the race director? But to say I got my money's worth spending as much time as I could on a world class facility is an understatement. Looking forward to next year!



4) THANKS TO:

Thanks Kevin and the sponsors for organizing the entire event.

Thanks Wyatt for fixing my drive chain.

And thanks to the rest of you for keeping R/C bikes alive and well. The RAMS-RC reps who I talked to were really impressed by the turnout and high level of everyone competing.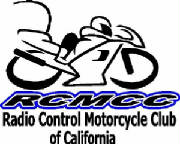 WEBMASTER: Ian Francisco (ianfran@hotmail.com) - "grymg" on rcgroups, yahoo groups, yahoo messenger, etc... WEBMASTER: 2nd Kevin Hicks (kev71h@gmail.com) "Kev71H" on many forums: RCgroups.com